From video kiosks to online database systems, X23 keeps things fresh and exciting. We assist our clients all the way through the development process, from brainstorming through execution to delivery. X23 is committed to using the latest tools in our technology toolbox to deliver innovative solutions to today's online challenges. Specifically, we have extensive experience in these technology areas: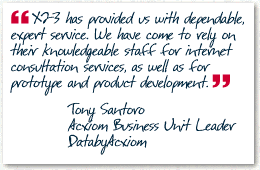 Click the quote to see a project description

Internet product design & development
Client/server systems
Database development
Software design & development
Prototyping
X23 Technologies puts the power of an in-house development organization at your fingertips. Specializing in short-term projects and prototypes, X23 is eager and ready to make your most innovative product ideas a reality.

Challenge us. If you want to make use of a new technology, or have a great idea for a product or enhancement to an existing product, give us a ring. Chances are we have the expertise you're looking for.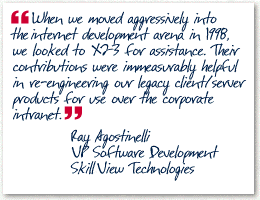 Click the quote to see a project description

Re-engineering for the internet
One of our specialties is converting legacy off-the-shelf applications into brand-new online products. It can be extremely useful to convert an existing application, transforming it to take advantage of an entirely new and exciting medium.
Consulting
Working with you, not just for you, our team of motivated professionals will solidify your ideas into a working product. Our technical versatility allows us to provide management consulting for a day, supplemental personnel for a month, or a complete staffing for the full cycle of a development project. X23 has experience in problem-solving for today's market. We'll help you take a look at what your customers need and develop towards that goal. Or we can take one of your existing ideas and turn it into a market winner.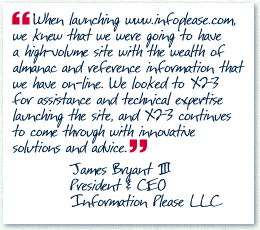 Click the quote to see a project description

We'll help you go from the idea stage through the implementation stage of creating a product or prototype for your customers. Use our experienced and talented staff to help define, create, and brainstorm about your future products, projects, and prototypes.
Result-driven product development... and more
X23 combines today's best ideas and emerging technologies to create new products or enhance existing ones. While dedicated to providing products of superior quality and value, we produce more than just a product — we provide clear documentation as well as customized personal training and support. We stand behind everything that we produce, and every project we work on, 100%.
Call or email us, and we'll be happy to discuss solutions that we've designed, developed, and implemented for our clients, as well as what we can do for you. Or see for yourself — take a look at some of our sample projects.
Tools and technologies
Some tools we have used for clients include:
Java
Javascript
Visual C++
C++
Borland C++
Perl
Windows NT Server
SQL Server
Netscape Enterprise Server
CyberCash Credit Card Authorization
Verisign Digital Certificates

Visual Basic
ISAPI
TAPI
Caller ID
Linux
ASP
PowerBuilder
SQL
mSQL
ODBC
JDBC
We are constantly adding new cards to our deck; if we're not pushing our own limitations, our clients are helping with new suggestions and challenges.
---
Copyright ©1999, X23 Technologies Inc. and Kathy Godwin. All rights reserved.
Product and company names mentioned may be the trademarks of their respective owners.